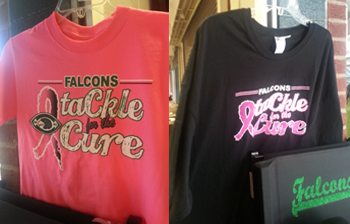 The Lake Dallas Quarterback Club, Kris Tee's, and the Lake Dallas Volleyball team are joining forces in October for Breast Cancer Awareness Month.
Be sure to get your Pink Out shirt! Kris Tee's will have the shirts available at all Falcon home games as well as the LDHS cafeteria during lunch.
$3.00 from each shirt sold go to longtime LDISD employee Ginger Whaley.